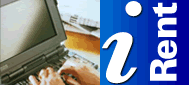 Other iRent Features:

- Invoicing
- Order Processing
- Inventory
- Job Details
- Damages
- Reports
- Languages
- iQuery
- Ease of Use

- FAQ's
- iRent Main



Damages & Losses

iRent solves the unique problem of damages and shortages when items are returned. Efficient and easy handling of these shortages make sure that your inventory quantities are updated correctly and the correct amounts are invoiced when required.

The return for every inventory item allows you to optionally enter three "Special" types of returns.


Reparable damaged items



Non Reparable items



Missing/lost Items.



---