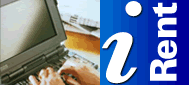 Other iRent Features:

- Invoicing
- Order Processing
- Inventory
- Job Details
- Damages
- Reports
- Languages
- iQuery
- Ease of Use

- FAQ's
- iRent Main



Ease of Use Features

IntelliMenu

Scaftech's experience with developing systems has identified that most users use only a small number of screens on a daily basis, depending on their job function.

Scaftech's proprietary IntelliMenu system provides the user with the ability to customize the main menu so that his/her most frequently used functions are always displayed on the main menu. This provides an easy push button facility for each user to access his/her most frequently used screens.


IntelliSwitch

Traditional menu systems consist of a menu hierarchy with a labyrythmic series of menus and sub menus requiring the user to navigate up and down menus to find the one the screen they want.

Scaftech incorporates into all it's software proprietary IntelliSwitch technology, which allows a user to switch from any screen to any other screen by simply pressing a function key.

Each screen and report in the system has a unique ID, which identifies which function to switch to. For iRent, typical screen Id's include :

Job Balances = "JBAL"

Deliveries = "DEL"

Returns = "RET"

In the below example, from any screen, the user can switch to the Deliveries screen by pressing function key 12, followed by "DEL".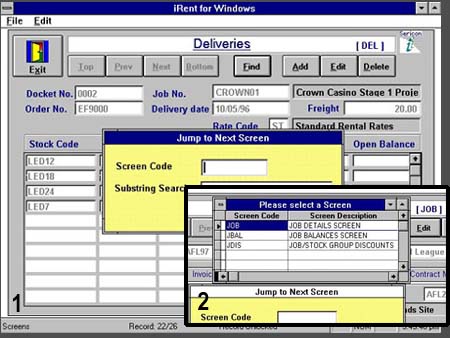 Furthermore, if the user wants to switch but cannot remember the ID, typing a "?" will bring up a keyword text search function which will allow the user to specify a keyword to find the screen e.g. if you want to switch to the program status report but cannot remember the ID, enter the word "status" and a pick list appears listing all the screens/reports that have that keyword in their description.

The old style menu hierarchy is still available for users that prefer a more traditional method, although our experience has been that users quickly learn the most frequently used Ids and tend to use Screen Switching most of the time, if not exclusively.


Auto Lookups Scaftech incorporates into all its software Automatic Lookup Lists on all screens, which require a code. The lookup screen can be called by the user or if the user enters a wrong code, the lookup screen appears automatically.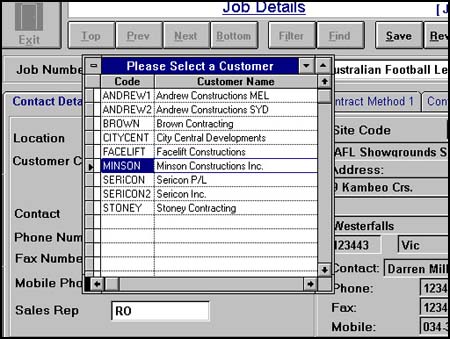 The benefit of this feature is that users do not ever need to remember codes.

User defined Filters Scaftech incorporates into all its software User Defined Filters on all screens. The filter allows the user to search for records according to special conditions e.g. I want to view all jobs that have over 2000 boards on site.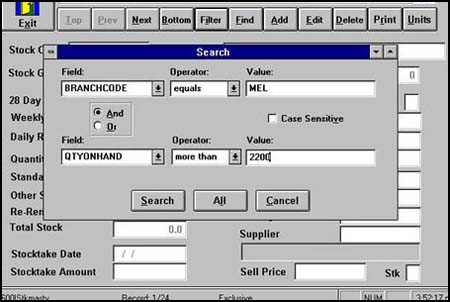 The benefit of this feature is that users have powerful query facilities to view the data records they need in different situations.